---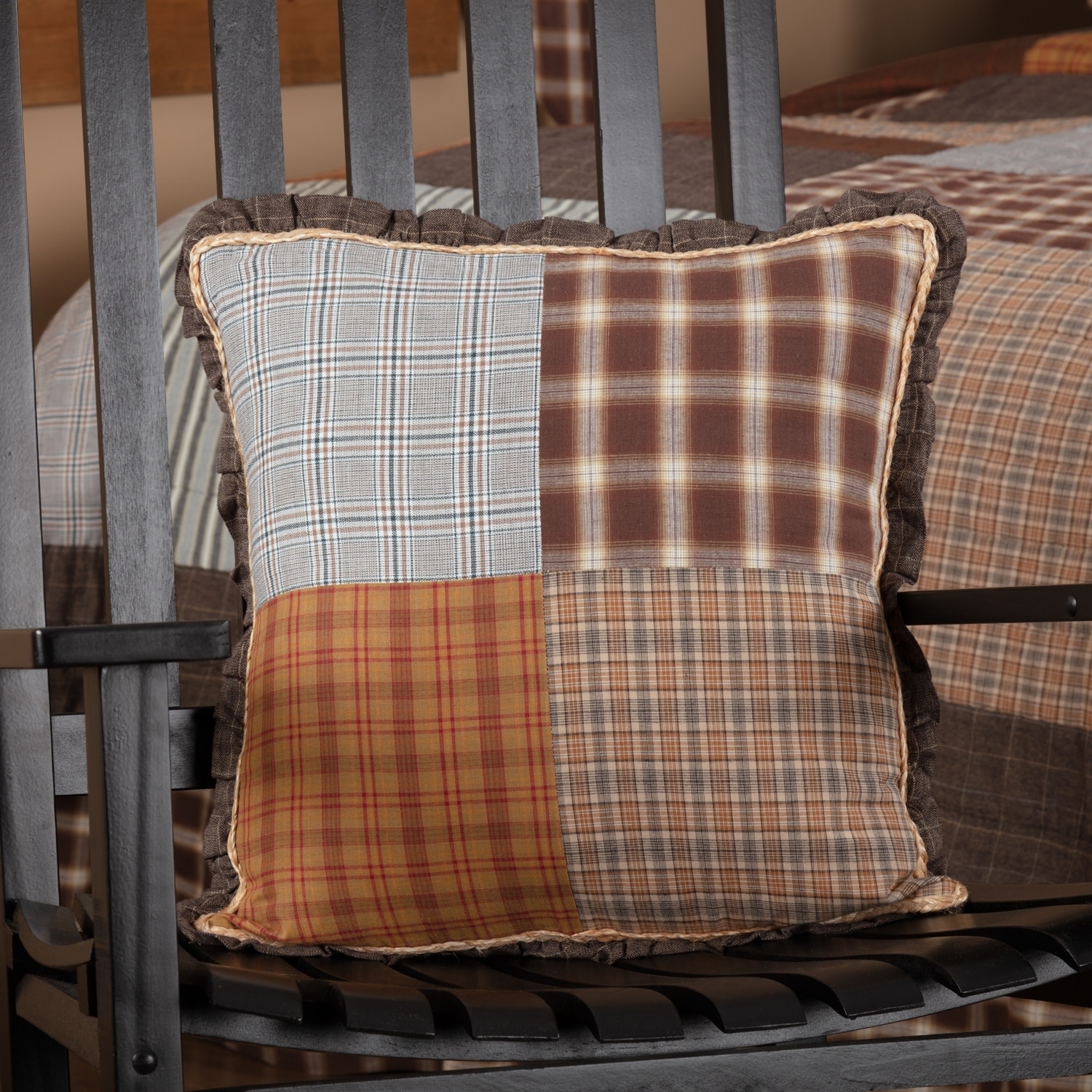 Grey Rustic Bedding VHC Rory 18x18 Pillow Cotton Patchwork Rope (Pillow Cover,
Product Description:
The 18x18 Rory Patchwork Pillow various greige, chocolate, and natural plaid fabrics in 4 patch block layout
Features
PREMIUM CONSTRUCTIONwith over two decades experience crafting goods for American homes, our items are built to last for years to come.
RUSTIC DECORcabin style to fit any lodge, cabin, lake house, or retreat.
QUALITY MATERIALmade with durable cotton and jute shell for a proper look and feel.
Various greige, chocolate, and natural plaid fabrics in 4-patch block layout
Natural jute piping frames the edges of this pillow
Trimmed with 1" black and tan herringbone windowpane plaid gathered ruffle
Reverses to Cultured Pearl white, black, and toffee brown plaid fabric
Features 2 tie closures with 3" overlap to conceal pillow insert
PatchworkMachine stitched, Machine pieced
Specifications
Material95% Cotton / 5% Jute, Polyester Pillow Fill
ColorsGreige, Chocolate, Natural
Closure TypeTies Closure
Manufacturer CountryIndia
CareSpot Clean
Components
1 x Pillow Cover - 18" x 18"
1 x Pillow Insert - 19" x 19" x 5.5"
Note
*All retailers not collecting sales tax from purchasers in Colorado, Kentucky, Louisiana, Oklahoma, Rhode Island, South Dakota, Vermont, and Washington are required to give the following notice: Although we, as the seller, are not obligated to collect sales tax in your state, this purchase is subject to sales tax unless it is specifically exempt from taxation. This purchase in not exempt merely because it is made over the internet or by other remote means. Your state requires that you file a tax return at the end of the year reporting all of your purchases that were not taxed and pay tax on those purchases. Retailers that do not collect Colorado, Louisiana, Oklahoma, Rhode Island, Vermont, or Washington sales tax, including ourselves, will provide you an end-of-year summary of your purchases to assist you in filing that report. You may contact your state's Department of Revenue for details on how to file this return. For purchasers in Colorado, Louisiana, Vermont, and Washington please note that we are required by law to provide your state with a report of the total amount of all your purchases from us at the end of the year.