---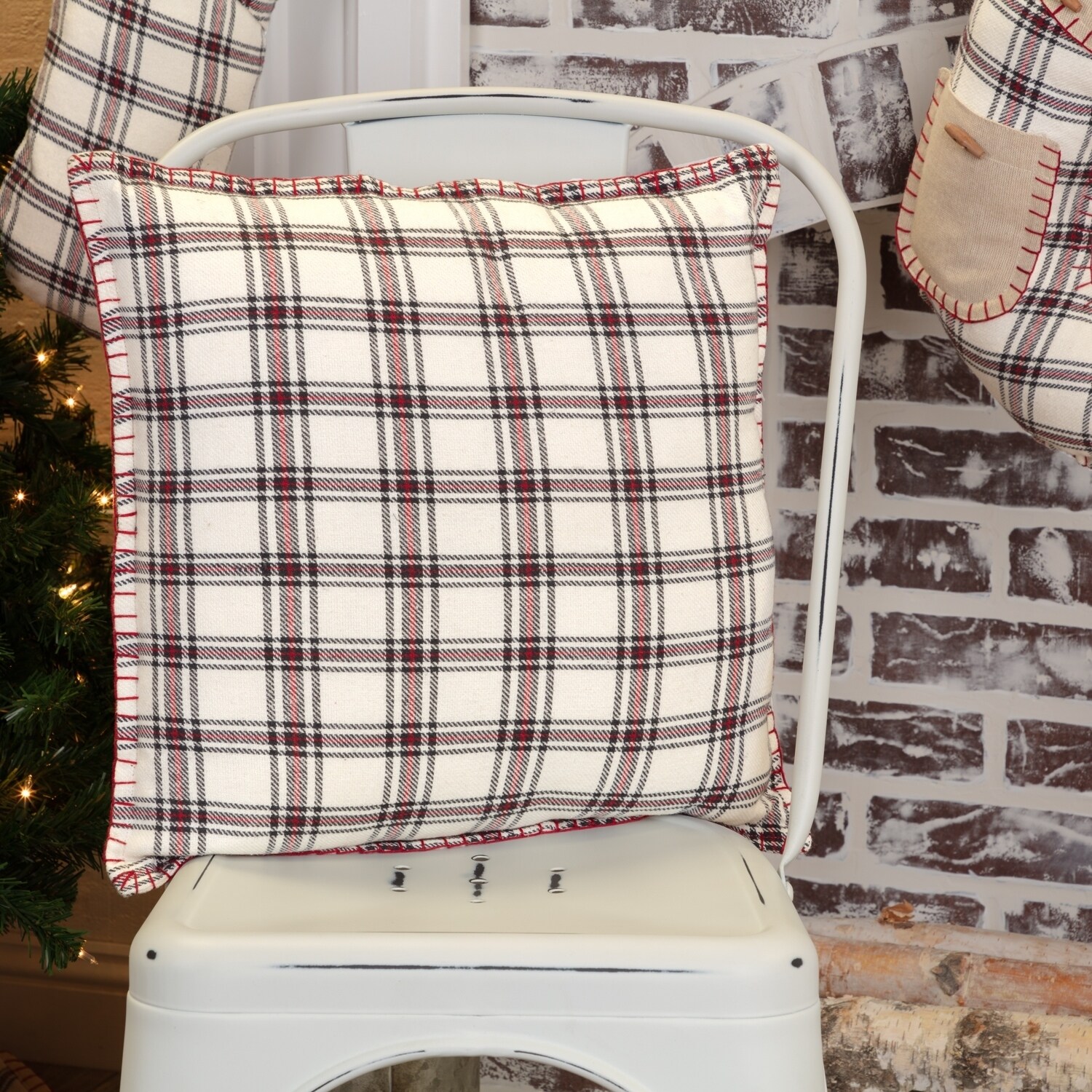 White Farmhouse Holiday Decor VHC Amory 16x16 Pillow Cotton Plaid (Pillow Cover,
Product Description:
Bring a touch of the urban holiday look into your room with the filled Amory Plaid Pillow 16x16. The plaid consists of a tasteful display of ivory, brick red, and black.
Features
PREMIUM CONSTRUCTIONwith over two decades experience crafting goods for American homes, our items are built to last for years to come.
HOLIDAY DECORfestive style to add cheer to any home this year.
QUALITY MATERIALmade with durable 100% cotton shell for a proper look and feel.
SHIPS FILLEDpre-filled with a pillow insert that expands when unpackaged to create a fuller appearance.
Turned edge seam with thick brick red whipstitch detail
Reverses to same as front
Features 2 wooden toggle closures plus 1 spare hidden toggle with 3" overlap to conceal pillow insert
Single fabricMachine stitched
Specifications
Material100% Cotton, Polyester Pillow Fill
ColorsIvory, Brick Red, Caviar
Closure TypeButton Closure
Manufacturer CountryIndia
CareHand Wash, Lay Flat to Dry
Components
1 x Pillow Cover - 16" x 16"
1 x Pillow Insert - 17" x 17" x 5.5"
Note
*All retailers not collecting sales tax from purchasers in Colorado, Kentucky, Louisiana, Oklahoma, Rhode Island, South Dakota, Vermont, and Washington are required to give the following notice: Although we, as the seller, are not obligated to collect sales tax in your state, this purchase is subject to sales tax unless it is specifically exempt from taxation. This purchase in not exempt merely because it is made over the internet or by other remote means. Your state requires that you file a tax return at the end of the year reporting all of your purchases that were not taxed and pay tax on those purchases. Retailers that do not collect Colorado, Louisiana, Oklahoma, Rhode Island, Vermont, or Washington sales tax, including ourselves, will provide you an end-of-year summary of your purchases to assist you in filing that report. You may contact your state's Department of Revenue for details on how to file this return. For purchasers in Colorado, Louisiana, Vermont, and Washington please note that we are required by law to provide your state with a report of the total amount of all your purchases from us at the end of the year.